A Jackson teen has won an international art competition.
The Lowell Milken Center for Unsung Heroes recently announced that Charles Rounds III, a senior at Power Academic and Performing Arts Complex (APAC) in Jackson, has been awarded a $6,000 grand prize for a piece of his artwork called "Saved by Science."
"Saved by Science" is a piece of mixed media that portrays the inventive and courageous efforts of Dr. Eugene Lazowski. Lazowski was a Polish doctor during World War II who saved thousands of Jewish lives by injecting them with a strain of Proteus bacteria, so they would test negative for Typhus without actually being harmed. The manufactured epidemic scared Nazi soldiers away and prevented an estimated 8,000 Jewish people from being sent to concentration camps.
"Like Eugene Lazowski, I want to liberate people through my art," Rounds said in his artistic statement. "I want them to be at peace with all of the chaotic things that surround them in this world. Similar to the way Eugene used his knowledge of chemicals and medicines to heal the suffering of the Jewish people, I use my art as a refuge for those who seek happiness in times of adversity."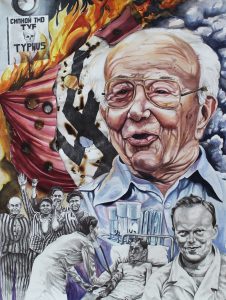 Rounds joined Rebecca Turner on Good Things this week to provide further insight into his piece on Lazowsky.
"A lot of times when I start on artwork, I focus mainly on a portrait or something, so I'll do the portrait first and everything else will follow behind," Rounds said.  "The portrait in the middle is a picture of him when he was older before he died. The idea came to where I wanted to make my artwork act as a one-on-one conversation where you're actually like taking to him. That's why I had all of these different elements surrounding him as he were telling his story through the artwork."
The talented teen will now head off to Starkville where he will study both art and architecture. Following graduation from Mississippi State University, Rounds plans to move back to Jackson and focus on revitalizing the city.
To see the full interview with Rounds, check out the video below.
The post Jackson's Charles Rounds III wins international art competition appeared first on News Mississippi.